Title: Afterglow
Author: Maria Monroe
Genre: Post Apocalyptic Romance
Release Date: July 13th, 2016
Who knew the apocalypse could be so sexy?
Nina can shoot a gun, start a fire, and kick some serious ass. So when a killer virus and solar storm decimate the country, she's as prepared as possible to survive. She just needs a motorcycle to navigate the cluttered roads and meet up with her family.
Creed, former Marine, is tattooed and tough. He's scarred inside and out. Loss is no stranger to him, and he avoids getting close to anyone at all costs.
When Nina tries to steal his motorcycle they have a vicious fight, but necessity and attraction force them into an uneasy alliance. They travel together through the dangerous landscape, where trouble lurks around every corner and they need each other to survive.
But the biggest danger just might be falling in love.
Equally as exciting as it is sexy, Afterglow contains graphic sex and some violence, so please read at your own risk. 18+ recommended.
I received a copy in exchange for an honest review.
Give me a book by Maria Monroe with a leather wearing, motor cycle riding hottie, a kick ass heroine and a doomsday story line and I am there! I haven't read a single story by Maria Monroe that I haven't dearly loved with characters that I didn't instantly fall for. Afterglow showcasing the heat between Creed and Nina is no different and just adds to my list of combustible hero/heroines by Maria that I will read again and again. She takes us to another world where money is no longer useful, merchandise is free for the taking, humans are scarce, and morality is no where to be found. Nina and Creed find heated arguments and scorching desire among whizzing bullets, diseased dead bodies, and abandoned vehicles.
"He still couldn't get his mind around how quickly things had gone south, how fast the world had gone from..well, from the world we knew to this."
Nina is a fiery haired beauty, tough as nails, and is always ready for a fight. Whether she is stealing a motor cycle, locked in a battle of words, or facing a matter of life or death, she is fierce and all in. I absolutely adored this heroine and her quick wit, even quicker reflexes, and her caring heart. All she wants is to find transportation that will get her to her family. What she finds instead is a yummy man wearing tattoos and scowl but who also owns a motor cycle. Soon tempers and libidos ignite and there is no turning back as they embark on their journey together.
"You are aware of what happens every time you fidget against me,  sweetheart, aren't you?' 'I can feel it, Creed,' she answered in a smart-ass tone. Her voice made him want to f**k the smart-ass right out of her,"
I couldn't help but fall for Creed and his sentimental tattoos, Marine honed muscles, and hardened heart. He has been through so much in his life but still has this protectiveness that grows towards Nina that is sure to melt any reader's heart. He possesses a dirty mouth, cocky attitude, and panty melting moves that keeps the mood heated throughout the story. After losing his loved ones, all he wants to do is to defend what is his and to never become attached to anyone ever again. That is until a spirited burglar appears with a head full of curly red hair, a curvaceous body, and spitfire temper. He finds himself drawn closer to the blaze with no hope of getting out before he gets burned.
"Aw sweetheart, I love it when you beg," he drawled. "F**k you, Creed," she growled at him. "Right now." He slammed inside her all once, so hard that Nina could barely breathe. "That what you wanted, baby?"
Maria brings us a story of passion and love that is cultivated in world full of devastation while fighting for survival. You can't help but cheer on Nina and Creed in their journey and become emotionally invested with each trial and tribulation along the way. Maria has a way of writing that makes the reader feel every tingle of arousal, hunger pain, and bead of sweat that Creed and Nina experience. I highly recommend for a love story that spans miles and brings us into a future full of desolation with a flicker of hope that will not be extinguished and soon becomes a burning inferno.
Innocent freshman + bad-boy college senior = the sexiest "lessons" ever. College has never been this hot!
Lia, eighteen and innocent, is sure moving into a coed dorm at college was a mistake. She's having a hard time fitting in, and she's absolutely and completely miserable. But then she meets college senior Julian, and things are about to take a scintillating turn. He's the older, confident bad-boy, and Lia can't stop thinking about him. When he agrees to give her private "lessons," Lia starts to learn way more outside of class than she does in class. What she's not prepared for, though, is falling in love. Hard.
---
LOVE (LITERALLY) is the conclusion to JULIAN & LIA, the sexy college romance.
Lia has finally gotten over her first and only love, Julian, and is starting a glamorous reporting job in downtown Chicago. But when circumstances force her and Julian together again, she quickly realizes her heart never truly healed. The scruffy sexy bad-boy she fell in love with is now a clean-cut and commanding professional, but still as arrogant and domineering as ever. Getting swept up in a dangerous story isn't enough to take her mind off his green eyes, sculpted body, or dirty mouth.
Intrigue and peril mix with sex and second chances in this stunning conclusion to the Julian Series.
18+ only!
Maria Monroe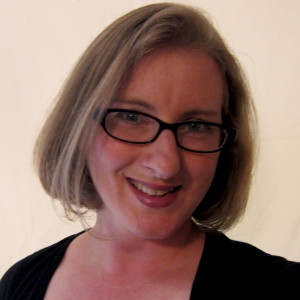 Maria Monroe writes sexy and smart romance. But she also enjoys playing Pokemon, drinking wine, sarcasm, and laughing about inappropriate things.
She's from Chicago and currently lives just outside the city with her three awesome kids, two rescue dogs, two rescue cats, and the most supportive husband in the world.
Connect with Maria Monroe:
Hosted By: